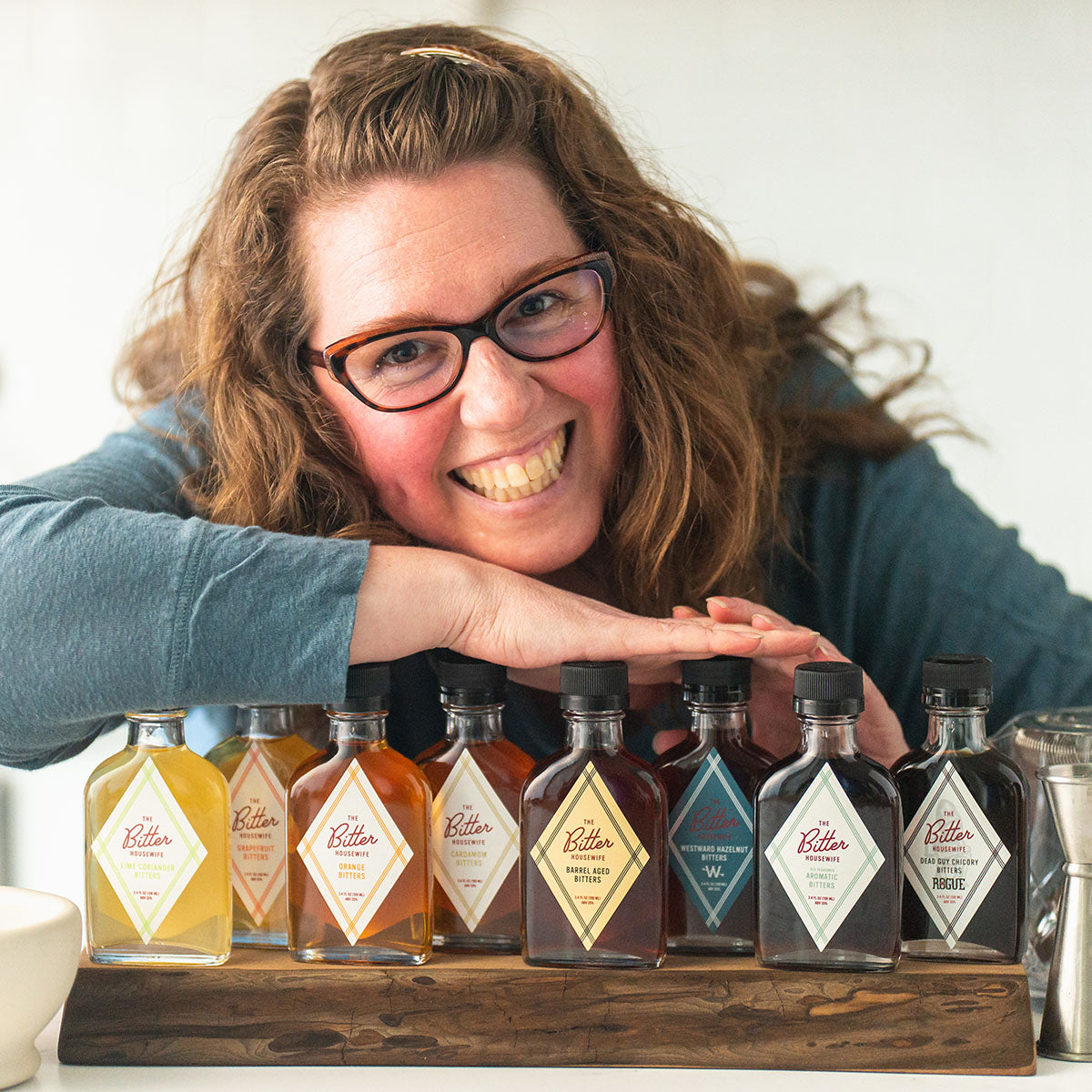 We warmly welcome anyone with an interest in great drinks, regardless of your level of knowledge or experience. This bitter housewife is gracious with her hospitality.
The Bitter Housewife Story
About Us -2023 Update
Where It All Started
I have a BA in creative writing and an MA in writing and publishing. So of course I worked in restaurants and bars. By my mid-30's I was only barely using either of those degrees doing some freelance work in marketing and PR for restaurants and spirits brands, but my primary income was still from working in hospitality. 
One of my earlier gigs had been as a bar manager for a farm-to-table, seasonally inspired restaurant in the late 2000's. I was tasked with creating a cocktail menu that also fit this theme. It was here that I first played around with making syrups flavored with fruit and herbs, using fresh pressed juices in cocktails, and infusing spirits. 
But, I wanted to get back to publishing, so I looked to my happy place of food, drink and hospitality and started writing a blog, called "On Becoming A Housewife".  It was a mix of urban homesteading and entertaining advice, infused with a nostalgic nod to mid-century cocktail party aesthetics. I hoped to turn it into a lifestyle business complete with a book and branded merchandise. 
In the course of a deep dive into potential culinary and entertaining topics, I realized I could make my own bitters. My initial attempt was driven by curiosity rather than any expectations of a mind blowing result. It fit in with my general interest in making cocktails at home with components I made myself from seasonal ingredients. I also thought it would be fun to demystify this secretive ingredient.
Turns out, that first batch was much better than expected. The bitters were interesting and complex on their own and made a great addition to cocktails. And being the perfectionist I am, I decided I needed to make the perfect bitters for my favorite drink, an Old Fashioned. After experimenting with about six different recipe variations, I arrived at the version that remains the heart of our line today—our Old Fashioned Aromatic Bitters. 
 A conversation with Dan, my husband, about starting a product based business while sipping Old Fashioneds made with these perfect bitters led to the question, "Could we make a business selling bitters?" My off the cuff answer was, "I have no idea, but we could call it The Bitter Housewife." He immediately looked up the name and saw it wasn't trademarked; however, the URL "bitterhousewife.com" was claimed. But, we found THEbitterhousewife.com was available and our fate was sealed.
While Dan delved into sales data from existing companies, I concentrated on understanding the brands and their target audiences. It didn't take long for me to see a gaping hole. The brands I was finding all seemed to project an exclusive, "old boys club" aura, emphasizing secret formulas and boasting about the virtues of their elusive elixirs. Even with my background in the restaurant industry, none of it resonated with me. More importantly I didn't see it resonating with any of my friends. The notion of exclusivity and secrecy wasn't welcoming nor did it peak my curiosity. My belief has always been that food and drink should be inviting and comforting, not intimidating or exclusionary.
As I looked into the broader landscape of cocktails, I found three main brand categories: high-end, exclusive brands, cheap ones filled with chemicals, and then the ones marketed to women with lots of pink, flowers, and "skinny" labels. None of that was what I wanted. I was craving a modern, fresh brand that simply crafted exceptional products they wished to share.
Thus, The Bitter Housewife brand began to take shape. I wanted a brand that stood out with a sleek, modern look but still felt familiar. It should be easygoing, friendly, and fun. And most importantly, zero secrecy. We'd list all our ingredients, give our products simple names that told you exactly what you were getting, and take the time to educate anyone who wanted to know about bitters and how to use them. Our goal? We never wanted our bottles to gather dust on someone's bar. We wanted you to use them, and use them generously.
How We're Different
At The Bitter Housewife, you won't find any clichéd trappings like arm garters or waxed mustaches. We warmly welcome anyone with an interest in great drinks, regardless of your level of knowledge or experience. This bitter housewife is gracious with her hospitality. 
We're open about our process, share insights into the ingredients we use, and demystify the world of bitters, making it accessible to all. Our belief is that cocktails should never be intimidating. We also firmly believe that the finest drinks are made using quality ingredients, crafted just the way you like them.
Our bitters are appreciated by experienced bartenders worldwide, but they are meticulously crafted with individuals like you in mind—those who enjoy crafting drinks at home, whether it's for yourself, your friends, or your family. Our bitters are carefully balanced to seamlessly enhance your drinks without overwhelming them. We play the role of the supporting character, ensuring that you shine every time you share a drink you've mixed.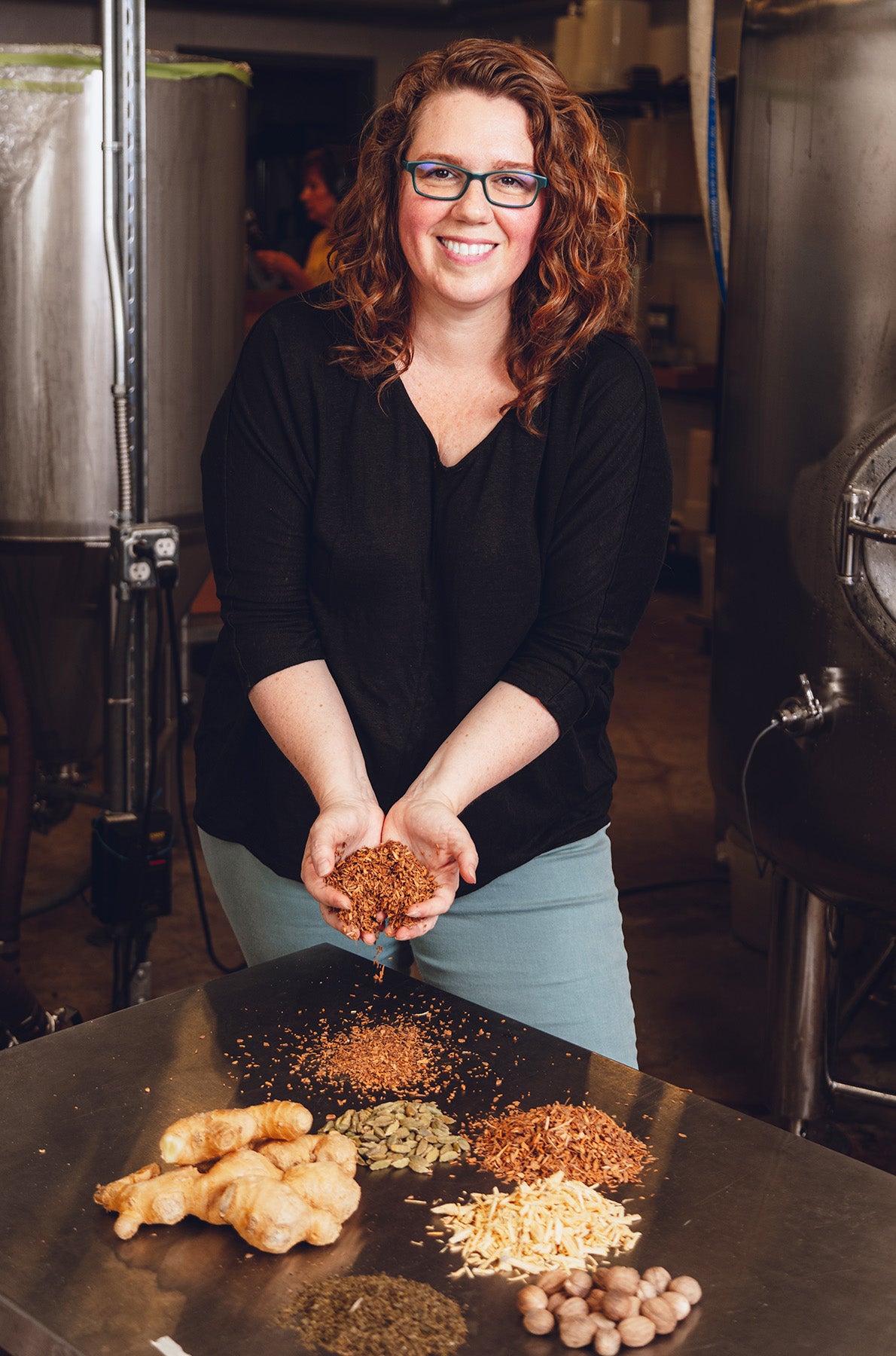 Genevieve Brazelton
Genevieve is the woman behind the flavors and identity of The Bitter Housewife. When she's not testing new recipes you'll generally find her writing blog posts or taking photos. 
Before launching The Bitter Housewife Genevieve's career was a melding of her love of food and beverage with her talent for storytelling. She was an editor at Wine & Spirits magazine, an account manager for boutique food and beverage-focused marketing and PR agencies, and a bar and restaurant manager.
Besides providing the vision and direction for The Bitter Housewife Genevieve supports women business owners through her work with Xcelerate Women both as a board member and coach.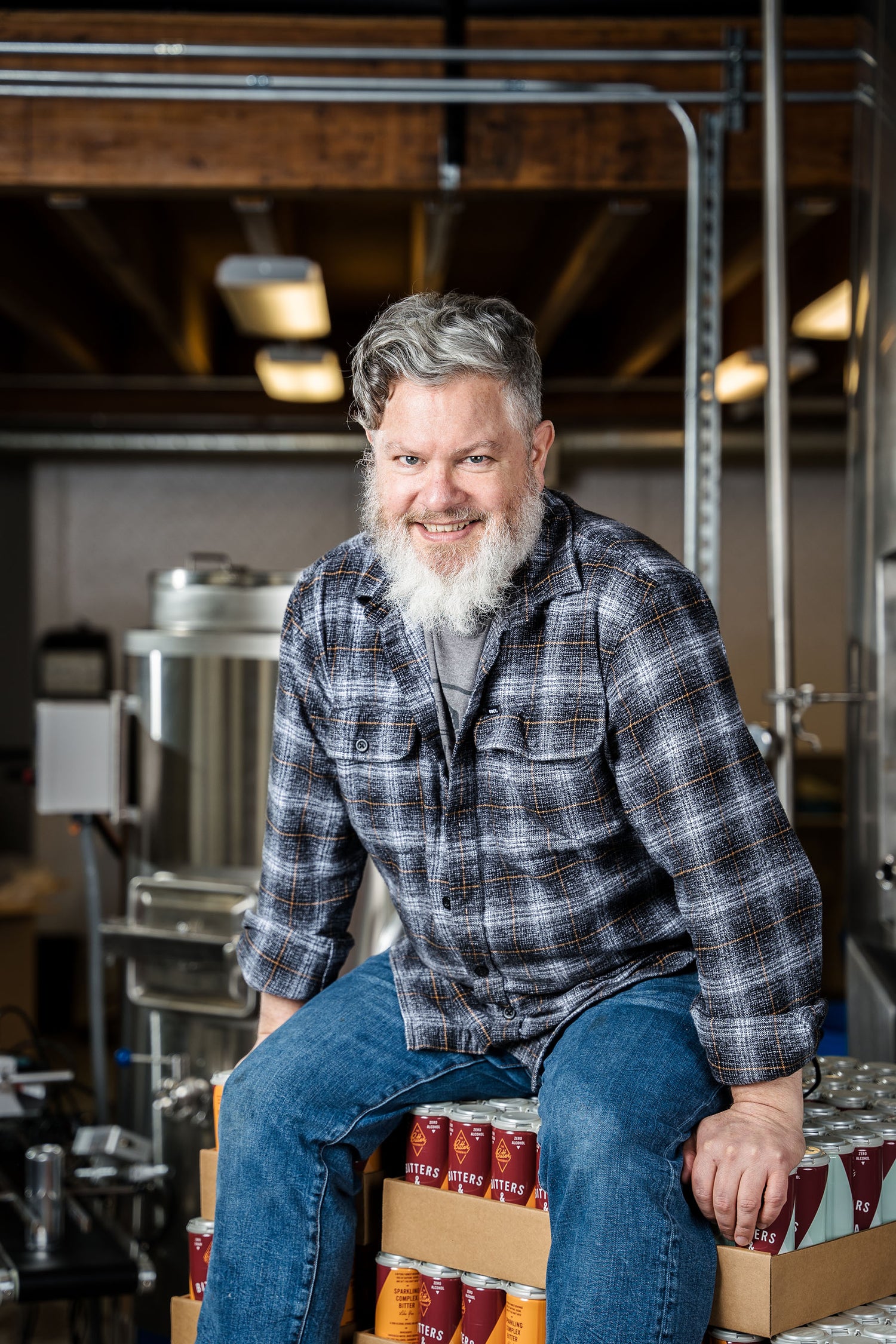 Dan Brazelton
Dan runs the operations and sales side of the business. You'll often find Dan pumping bitters from one tank to another or figuring out how to fit all extracted spices into the compost.

Before launching The Bitter Housewife, Dan had an extensive career as a startup founder in media & technology, managing projects for companies like Disney, Fisher Price, NBC, and Intel.
Besides keeping The Bitter Housewife on the rails, Dan also provides affordable, hands-on guidance for early-stage food companies looking to sustainably scale. His holistic approach, covering operations, marketing, finance, and sales, ensures these startups have the foundation for success.